This is a collection of my favourite Gaudi-themed ornaments on Zazzle. Antoni "Antonio" Gaudi was this amazing, creative Barcelona architect who designed these weird and wonderful organic, unique, Art Nouveau houses and buildings. Buildings such as the tumbling walkway around Parc Guell, with intricate mosaics set into the ceiling and the Sagrada Famila - a cathedral that's being finished today - that has the most incredible stained glass windows. And luckily for you, my mother visited and took many beautiful photographs, and put them up on Zazzle.
This one's one of the most popular - two different mosaic patterns, in green and ...well, muted rainbow.
A two-sided hanging ornament to bring a touch of Antoni Gaudi's warm and wondrous Barcelona to your Christmas tree. Each side shows an intricate mosaic tile from the walkways of the World Heritage site of Parc Guell.
And they sold. A lot. In fact, people were coming back and ordering more - so I have faith that I am not biased, and that yes, these are damn nice ornaments. What I'd like, if I ever have kids - or if my siblings do - is to start a tradition of buying a special ornament every year. By the time they were old enough to appreciate it, there'd be a full complement!
Interestingly, I discovered that people prefer buying ornaments with a different picture on each side, rather than a 'balanced' symmetrical one - I guess it's the whole value for money reaction, or not being able to choose!
Ah, here's another lovely one - photos of the stained glass windows of the glorious (and in progress) Sagrada Familia.
But wait - how big are these ornaments? What are they made from? Well, they're 2.87 inches across, and weight 1.4 ounces - oh, and they're made of ceramic. Obviously the printing is full-colour and double-sided and you can basically add what you want (want to add your name to an ornament? Or 'Happy Christmas'? Then just click the 'Customized' button!)
Feeling a bit hot and cold about this? Then I have the perfect ornament - this icy, fiery dual stained glass window design!
A two-sided hanging ornament to bring a touch of Antoni Gaudi's warm and wondrous Barcelona to your Christmas tree. Each side shows a brightly lit stained glass window, in fiery orange and cool blue, from the Sagrada Familia
How much do they cost? Well, they're $15.85 each - but if you order more than one (and it can be
any ornaments from any store
on Zazzle, but my mother has the monopoly on
Gaudi ornaments
right now!) then there are bulk discounts:
3-9 ornaments gets you a 10% discount
10-14 means a 15% discount
and 15 or more? 20% off! (which cancels out the shipping cost)


But wait - what about shipping? Shipping rates on Zazzle are tiered, which means that they are really steep for one ornament and more reasonable for several. The only real way to find out for sure is to add them to your cart, play with numbers and have a look at the total - this is what I got (but it may be giving me something different for overseas).
1-3 ornaments $8.99
4 $9.99
5-6 $17.99
7-10 $18.99
11-14 $35.99 (bulk discount at this point: $26.18-$33.32 )
15-20 $37.99
but a 20% discount of $47.55-63.40
And henceforth, the discount is always more than the shipping
35 ornaments is $92.99 shipping and discount
$110.95
And 50 is $97.99 shipping, and a discount of $158.50!
More Gaudi Ornaments
(with a different picture on each side)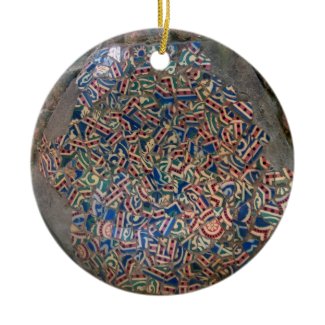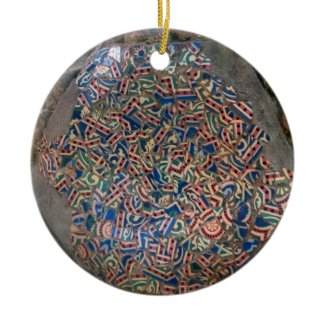 Parc Guell Mosaic Rainbow and Orange by Be_dazzled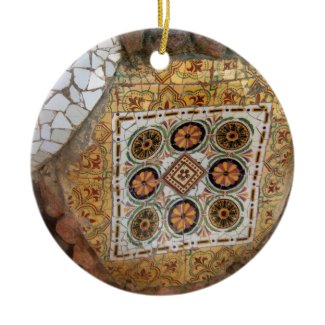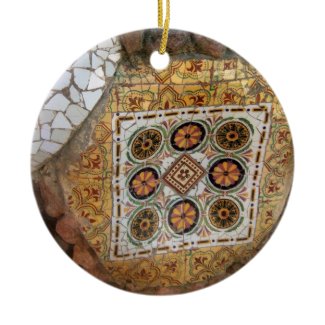 Parc Guell Mosaic Green and Orange by Be_dazzled
Make custom Christmas tree ornaments
Of course, you may actually really like an ornament that's the same on both sides, in which case there are these designs to choose from, so far!
Yeah, yeah, Christmas is over. But stuff sticks around on the internet - and hey, maybe you forgot to buy ornaments for the tree this year and are kicking yourself (or getting kicked by your kids!). Perhaps you should order in advance?
Or perhaps you want some giant earrings? Or something pretty to hang on the wall, to look arty and make everyone think you're more cultured than you are! Or even a souvenir of a trip to Barcelona, or a gift to a Gaudi fan?
Disclaimer: it's her store and she'll get the sales money, I'll get a referral if you buy through here, but if you don't, I won't. I'd *like* referrals, obviously, but I'd also like to show off her store.